Home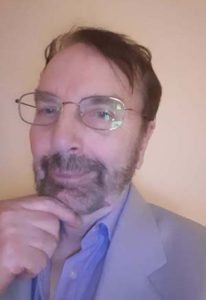 Dr Keith M. T. Hearne (BSc MSc PhD) Psychologist, Composer, Writer
LUCID DREAMING DAY – 12th April, each year
On this date in 1975, English psychologist Keith Hearne discovered (in his PhD research, completed in 1978) a way of enabling lucid-dream subjects in the sleep-lab to signal out from within the dream by making coded eye-movements – so circumventing the profound bodily paralysis of dreaming (REM) sleep, which had previously prevented such communication. Lucid dreams are an unusual type of dream in which you become perfectly conscious, with full critical faculties, within the dream state. This advance opened a huge new area of dream research, into 'inner space'.
Daniel Love suggested in his book (Are you dreaming?) that the date should be internationally recognized each year as Lucid Dreaming Day (www.luciddreamingday.com). The date 12th April 2015 was celebrated as the 40th anniversary of Hearne's discovery. His PhD thesis and his book (The Dream Machine) may be viewed/downloaded free at this website www.keithhearne.com
Message from Dr Keith Hearne: I am so very grateful to all those who have congratulated me for my discovery of ocular-signalling from lucid dreams, and all my subsequent research into sleep and dreaming. Happy lucid dreaming!
******
Dr Hearne supports Daniel Love's exciting project to boost lucid dreaming through Love's book: The Lucid Dreamer's Guide to the Cosmos. Click here for the link: http://kck.st/1NSjUJN
Dr Keith Hearne & Dr Clare Johnson
at the March 28th 2015 Talk in London for the Dream Research Institute celebrating 40 years of lucid dream research.
FREE DOWNLOAD of Hearne's famous PhD! Click:
 https://www.keithhearne.com/phd-download/ 
WORLD'S FIRST SLEEP-LAB RESEARCH INTO 'LUCID' DREAMS. FIRST DISCOVERY OF EYE-SIGNALS FROM LUCID DREAMS IN  April 1975 (WAY BEFORE A CERTAIN AMUSING AMERICAN), DISCOVERY OF THE FIRST DREAM-MACHINE, DISCOVERY OF ALL THE MAIN PHYSIOLOGICAL PARAMETERS OF LUCID DREAMS, DEMONSTRATION THAT A LUCID DREAM IS A REM DREAM OPERATING IN REAL TIME,  THE PRE-LUCID  REM BURST, THE  LIGHT-SWITCH PHENOMENON, THE SCENE-CHANGE EFFECT, etc, etc, etc.
ALSO, DOWNLOAD FREE HEARNE'S SEMINAL BOOK THE DREAM MACHINE (Click on Books by Dr Hearne – top right of this page)
Dr Keith Hearne (BSc MSc PhD) is an internationally known psychologist, from Britain, who conducted the world's first sleep-laboratory research into 'lucid' dreams (in which the dreamer becomes fully aware of being in a dream) for his PhD – completed in 1978 at Liverpool University. He devised the ocular-signalling technique and invented the first 'dream machine'. The original sleep-lab chart records from his pioneering research, and a dream machine, are on permanent display at the Science Museum in London.
He is also a composer and has written many works including a full Requiem (with additional Ave Maria, Nunc Dimittis & Magnificat), a Musical, a Guitar concerto, a Holocaust Memorial piece, and a Ballet. The full-length ballet was written in collaboration with Dame Gillian Lynne, who choreographed Andrew Lloyd Webber's Phantom of the Opera, Cats, etc. Some of the ballet pieces have been recorded by the Moscow Symphony Orchestra.
He is the Founder/Principal of the European College of Hypnotherapy and a therapist of renown. He has lectured widely, and introduced several major new therapeutic techniques. He teaches hypnotherapy, as well as the more esoteric subjects of past-life therapy and spirit releasing therapy. Over the years he has been frequently in the media, especially television, in the U.K. and abroad.
(If you are seeking his expert help as a psychologist/hypnotherapist, please click HERE).
******
All the material on this website is copyright ©